If you are interested in becoming an affliate with this website please contact me. I will put a link up to your website in this section and on the main page.
If you have a website about whales feel free to use either of these banners/buttons and this URL:
http://juniororca.angelfire.com/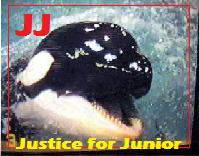 I would like to have better looking banners/buttons for my website. If you are good with Paintshop Pro or making banners/buttons please e-mail me. I would be happy to display your work and give you credit for your contribution!